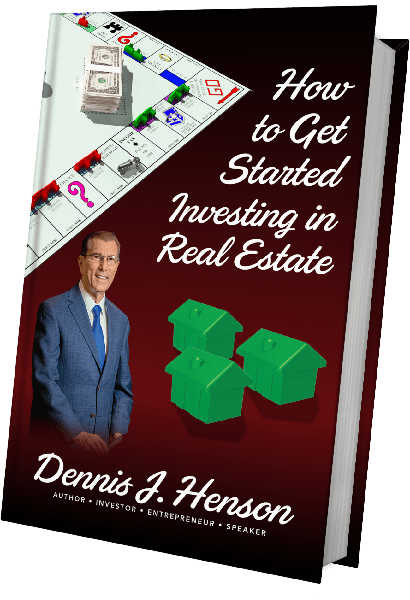 How to Get Started Investing in Real Estate
By Dennis J. Henson | Available in Paperback and eBook
Written by Dennis J. Henson, a seasoned Real Estate Investor, best-selling author, entrepreneur, and international speaker, How to Get Started Investing in Real Estate offers a step-by-step plan for building a profitable business. Here, you will learn the information needed to make intelligent, efficient, and knowledgeable investing decisions.
The impression of a Monopoly Game illustrates the similarities between that board game and actual investing. If you don't invest when the opportunity arises, you simply cannot win. That same rule holds true in Real Estate. By not investing, you lose out on many potential gains. As you learned in Book One of this series, The Royal Flush of Real Estate Investing, Real Estate offers significantly greater benefits than other types of investments.
In this book, you will find everything you need to know to start investing, including:
Getting the Proper Mindset
Analyzing Properties
The Steps to Success
How Much to Offer
Building a Team
Making Your Offer
Setting Goals
Rehabbing a Property
Getting Started
Obtaining a Good Return on Your Investment
Why You Don't Need Any Money to Get Started
How to Get Started Investing in Real Estate will both motivate and inspire you to take advantage of the most useful commodity on the planet. Many of Dennis's students have grown small investments into significant fortunes using the information now available in this book.
Follow these methods, as they have, to discover the secrets of starting a successful Real Estate Investing business!